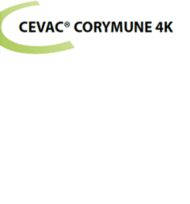 Inactivated aluminium hydroxide suspension vaccine for the immunization of chicken against Infectious Coryza and Salmonella enteritidis infection.
COMPOSITION
CEVAC® CORYMUNE 4 K contains an inactivated combination of Avibacterium paragallinarum serotypes A, B and C, and Salmonella enteritidis strain, homogenized with aluminium hydroxide adjuvant and thiomersal as preservative.
INDICATIONS
CEVAC® CORYMUNE 4 K is recommended for the active immunisation of breeder and laying-type chicken flocks against Infectious Coryza caused by Avibacterium paragallinarum, and against Salmonella enteritidis infection.
ADMINISTRATION AND DOSAGE
The vaccine must be injected:
 - subcutaneously (under the skin of the neck)
 - by intramuscular route (breast or thigh muscles)
 at the dose of 0.5 ml per bird.
 CEVAC® CORYMUNE 4 K should be administered to breeder and laying-type pullets between 8 and 12 weeks of age.
STORAGE
 - Store the vaccine between +2°C and +8°C or 35°F and 45°F
 - Protect from light
 - Do not freeze
PACKAGED
1,000 dose / 500 ml
 5 x 1,000 dose bottles / box